Pilbara
Details
http://www.emuaustralia.com/hk/All-Footwear/Pilbara/W11171.html
These stylish lace up flats have a breezy and relaxed look with their open weave canvas and natural smooth leather trim.
Read Full Product Details Here
---
Product Actions
FREE Express Shipping
on All Orders
---



Features
Open weave canvas and smooth leather trim.
Wrapped EVA footbed for superior comfort.
EVA cork mix midsole.
Durable, natural gum rubber for traction.
稀松式帆布編織和光滑的皮革修邊;極致舒適的包裹型EVA材質鞋床;EVA材質橡膠和軟木混合的鞋底夾層;增添防滑功能的耐磨天然橡膠
Product Description
The perfect choice for summer days, these shoes are designed to be comfortable and lightweight, with an open weave giving them a cool, airy feel. They look great with cute dresses or your favourite jeans.
此款鞋履輕巧舒適,稀松式編織的鞋身為您提供涼爽透氣的穿著體驗,是夏日的完美之選。穿上它搭配可愛裙裝或是您喜愛的牛仔褲來打造時尚夏日裝束。
Balanced Comfort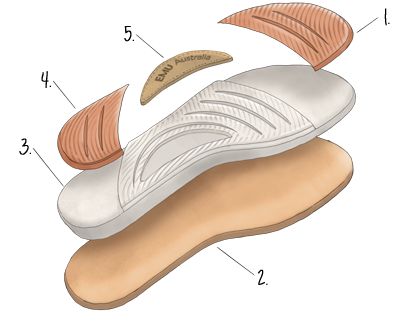 1. Molded gum rubber forefoot pod for extra traction

2. Molded EVA footbed for comfort & support

3. Lightweight & flexible Molded EVA midsole with cork fleck

4. Molded gum rubber heel pod for extra traction

5. EMU leather arch patch
---
Complete your look @emuaustralia.