Paterson Classic Lo
Details
https://www.emuaustralia.com/eu/de_DE/alle-schuhe/paterson-classic-lo/W11590.html
Paterson Classic Lo ist der Allrounder unter den Lederstiefeln. Egal bei welchem Wetter, ob eisig kalt oder kochend heiß, die atmungsaktive Merinowolle sorgt immer für eine angenehme Temperatur in den Schuhen. Entdecke diesen zeitlosen Hingucker in seiner breiten Farbpalette von Schwarz, Grau über Militärgrün bis hin zu Weinrot.
Read Full Description Text
---
Optionen zur Produktauswahl
---
Eigenschaften
Wasserdichtes Wildleder und natürliches australisches Lammfell.
Lammfell ist atmungsaktiv und hält deine Füße im Winter kuschelig warm und im Sommer angenehm kühl.
Atmungsaktive und wasserdichte Membran mit versiegelten Nähten zwischen dem Wildleder und der Wolle.
Ausgeformte Fersenmulde aus Wildleder und Zehenkappe für eine bessere Passform und Halt.
Abnehmbare, anatomisch geformte Einlage aus Lammfell.
Strapazierfähige, verschleißarme Gummiaußensohle mit weichem EVA sorgt für Komfort und Halt
Sohle ist mit einem speziell entwickelten wasserfesten Klebstoff befestigt, von einem wasserabweisenden Schutzfilm umhüllt.
Extrastarstarker Doppelsaum für mehr Halt.
Produktbeschreibung
Sei dynamischer mit dem Paterson Classic Lo Stiefeln von EMU. Lebe in den Tag hinein und fühle dich wohl in deinen Lieblingsschuhen unabhängig von deinem Tagesplan und dem Wetter. Egal, was du vorhast. Mit unseren Schuhen haben es deine Füße stets bequem, wobei du dir sicher sein kannst, dass das Design zwar praktisch aber dennoch modern und feminin ist. Dank der hohen Qualität und des durchdachten Designs sind unsere Modelle ideal, um den Winter in all seinen Ausprägungen zu genießen. Die dicke, bequeme Sohle sorgt für Grip, die EVA-Zwischensohle für ein weiches Auftreten. Lammfell ist natürlich atmungsaktiv - und unglaublich weich. Die echte Merinowolle aus Australien schützt deine Füße im Winter vor Kälte und hält sie im Sommer angenehm kühl.
Incredible Comfort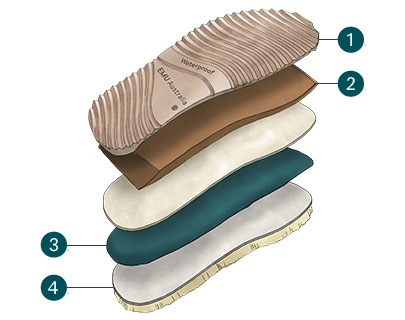 1. New and improved outsole for added traction and
stability in all conditions

2. Molded EVA layer for comfort & support

3. Anatomically correct moulded EVA insole for comfort & support

4. Soft sheepskin for the ultimate in warmth


Innovative Waterproof Technology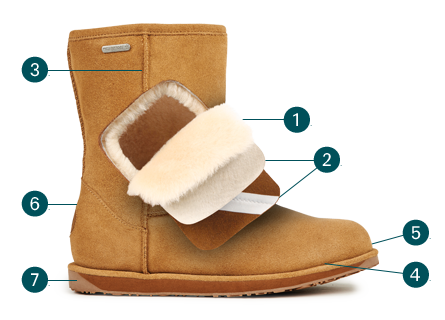 1. Waterproof suede and deluxe Australian sheepskin lining

2. Breathable waterproof membrane with
sealed seams

3. Superior double stitched seams for added strength and durability

4. Sole attached with waterproof adhesive,
finished with waterproof suede binding

5. Anatomically correct removable sheepskin
lined insole

6. Molded suede heel cup and toe cap for better fit

7. Durable rubber EMU sole with quality EVA
for
comfort and support


Paterson Classic Lo
is rated out of
5
by
66
.
Rated

5

out of

5
by
skye23
from
so comfy
i have had a previous pair of boots for 3 yrs and wear them every day so thought i better get another pair was worried they may not be so comfy as i have very sensitive feet prone to blisters but as soon as i put them on i knew they would be fine, i bought the sage green this time and they go with everthing actually, my old patersons i keep for dog walking so they still get plenty of use everyday and still look good after 3 years , i would not buy another brand now as i keep to what i know, i would buy every colour if i could afford it i still wear them in the summer when its not too hot which isn't often in the uk!
Date published: 2018-04-13
Rated

5

out of

5
by
CaseyElise
from
Perfect for Plantar Fasciitis
I have been searching far and wide, all winter for warm comfortable footwear. I have to wear orthotic inserts to support my arches. The boots have removeable insoles and my inserts fit perfectly! My feet a little too tightly, very snug, but I heard the sheep skin stretches. I wore them for about 3 days and they fit perfectly! I love how the toes and heels are stiff and protective but everything moves to the natural movement of my feet and ankles. Comfy like wearing clouds on my feet!
Date published: 2018-03-17
Rated

5

out of

5
by
lotsofbuying
from
excellent product
i have four pairs of these boots which I have had since they were first on sale, I have worn them each winter and sometimes in the summer when it has been very wet or cold . they are truly an excellent boot they are comfortable and have worn very well and clean up well when I have worn them in muddy places, all round they are the best boots I have ever bought they are worth every penny.
Date published: 2017-10-26
Rated

5

out of

5
by
Flora Joy
from
Wonderfully comfortable Boot in great color
I am so happy to have discovered EMU Australia on the eeb. It happened just by chance, but I have since learned that their boots (and sneakers!!!!!).are wonderfully comfortable, and their colors are grest. In addition to the boots I am reviewing. I bought a pair of Sneakers in Pink Watermelon) for which I receive many compliments and consider to be the most comfortable sneakers I have ever oened. So with wonderfully comfortable boots and cozily comfortable sneakers, I love EMU Australia. and will continue to buy from them. They also have a very fair return policy. Thank you EMU!
Date published: 2018-02-24
Rated

5

out of

5
by
Kristen
from
Worth Every Penny, Amazing Boots!
I live in Canada and I bought a pair in 2014. They were the best investment in boots I've ever made. They were worn through 10 winters and many summers (they looked good all seasons), they were incredibly warm and comfortable and stayed waterproof their entire life. I did try other winter boots but none of them were as warm, or as stylish; and none of them lasted more than a year tops. I will be ordering new ones for sure, I miss my EMU boots so much now. If you're debating the purchase, don't. They will last you a long time and stay amazing looking too!
Date published: 2018-09-14
Rated

5

out of

5
by
Angela B
from
Love!
I feel in love with Emu boots years ago. I was in need of a new pair and debated about spending the money. After trying a few other brands and returning them, I ordered these. I couldn't be happier with them! I love the waterproof aspect as I'm able to play in the snow with my dog but still look good. Very happy customer and well worth the money.
Date published: 2017-12-26
Rated

5

out of

5
by
Queen of ennor
from
Classic lo... never out of fashion
Love these boots. Well made, warm, go with everything and what's more waterproof! Couldn't ask for anything else... will shop again and recommend to friends. Thank you EMU
Date published: 2017-11-26
Rated

5

out of

5
by
RS2019
from
soft and warm plus true to size
I bought this Paterson Classic Lo in Oak color last month. Having based in the Middle East for a long time & coming from a tropical country in Asia, I wanted my weather transition for my first ever winter to be as warm as possible although there's no snow here yet and Paterson didn't disappoint me. Size wise the boots is true to its size. My size is US 7/EU 38 but I've read some of the comments here that it's tight or better size up so I ordered size 8. When the boots came size 8 was big for me so I exchanged it to my original size which is 7. Wearing socks at first the boots was tight it's because of the fur lining inside. What I did was I wore it inside the house for 3 days straight. All it took was 3 days to break in because the fur lining moulded in to my feet. I thought of removing the removable insole (which is good because you can always change it once they're worn out) while breaking it in so I tried it but didn't push it through because the boots became so loose. It's so warm & soft and I'm glad I chose Emu. I was thinking of buying the other popular brand but I researched first for reviews and Emu is a winner. Besides, I saw Emu products in a duty free shop back in the middle east so I was thinking that the product must be really good to earn a spot on their display. My only wish is to have this waterproof Paterson in hi but they don't have... So I ordered the Kemmie boots in black because i wanted a hi waterproof boots and they're on sale and they look stylish. I'm still waiting for my order to arrive one of these days and give my honest review to it. I love these Emu boots they're a winner...
Date published: 2020-01-03
---
Vervollständige deinen Look @emuaustralia.