Numeralla休閒短靴
Details
https://www.emuaustralia.com/hk/womens/numeralla%E4%BC%91%E9%96%92%E7%9F%AD%E9%9D%B4/W11071.html
FREE Shipping
on All Orders
---
Features
Nubuck vamp upper, smooth leather heel and crushable suede collar.
Wrapped EVA footbed for superior comfort.
EVA cork mix midsole.
Durable, natural gum rubber for traction.
磨砂牛皮鞋面及光滑的皮革鞋跟和耐壓的絨面革鞋幫;極致舒適的包裹型EVA材質鞋床;EVA材質橡膠和軟木混合的鞋底夾層;增添防滑功能的耐磨天然橡膠
Product Description
The Numeralla is perfect to pair with your favourite causal wear. Inspired by wellness, it's been crafted to deliver a lightweight and comfortable experience, whether transitioning between seasons or from the gym to the café. A narrow fit - the lightweight and athletic style is matched by the stylish, delicate detail.
此款Numeralla女式鏤空踝靴是與您喜愛的休閑服裝搭配的完美之選。以健康生活為設計靈感,此款鞋履為您提供輕巧舒適的穿著體驗,讓您無論在不同季節還是從健身房到咖啡館皆可自由轉換。精巧的設計和時尚雅致的細節使此款鞋履成為了輕巧和運動風並存的時尚單品。
Balanced Comfort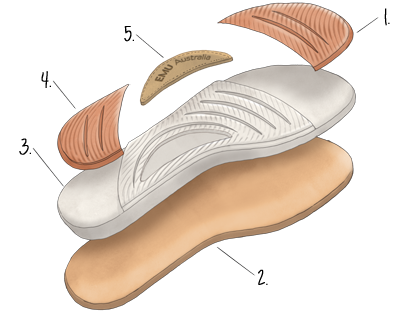 1. Molded gum rubber forefoot pod for extra traction

2. Molded EVA footbed for comfort & support

3. Lightweight & flexible Molded EVA midsole with cork fleck

4. Molded gum rubber heel pod for extra traction

5. EMU leather arch patch
---
Complete your look @emuaustralia.