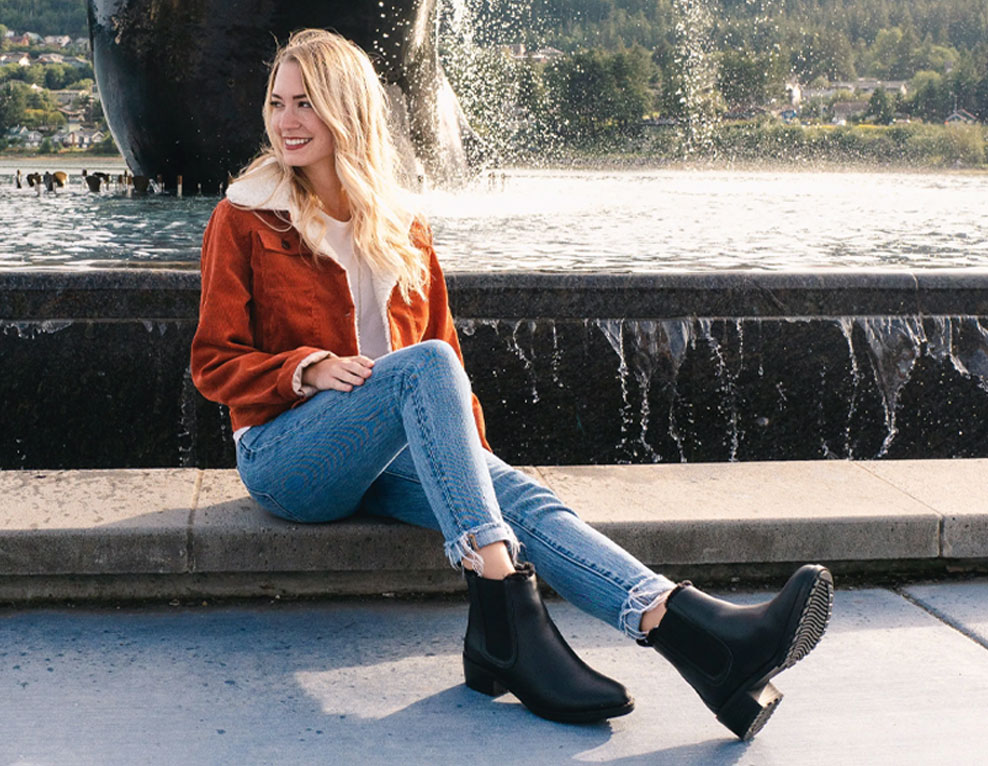 EMU Australia travels to Juneau, Alaska
We've arrived in the magical mountain-locked city of Juneau, Alaska with travel blogger Miss Rover.
1st of November, 2019
EMU Australia travels to Juneau, Alaska
Juneau Travels
I am lucky enough to have a job that allows me to travel. Being a travel Occupational Therapist allows me to spend 3-6 months in each job contract. You can learn a LOT about a place in 3 months. Enter Juneau, Alaska.
Late July, I arrived in Juneau, Alaska. It has been such a pleasure exploring the outdoor space, downtown, and all 40 miles of road in this mountain-locked land. Did you know you can only get to Juneau by boat or plane? It definitely adds to the charm.
Here are some of my favorite spots to explore with the help of my EMU Australia Ellin boots (because waterproof boots DEFINITELY help in a place like Juneau that averages 62 inches of rain per year). And make sure you make it to the bottom of this post for an awesome giveaway EMU Australia is doing to kick off their Global Adventures Campaign!
This post is in partnership with EMU Australia. All opinions and writing are my own. Photography by Adam Ramer and myself.
1 The Whale Project
The Whale Sculpture is a good spot to check out rain or shine! It gives you a great view down the Gastineau Channel and the water fountain comes on every few minutes! Believe it or not, the sculpture is actually slightly smaller than the size of a real life humpback whale (*mind blown*).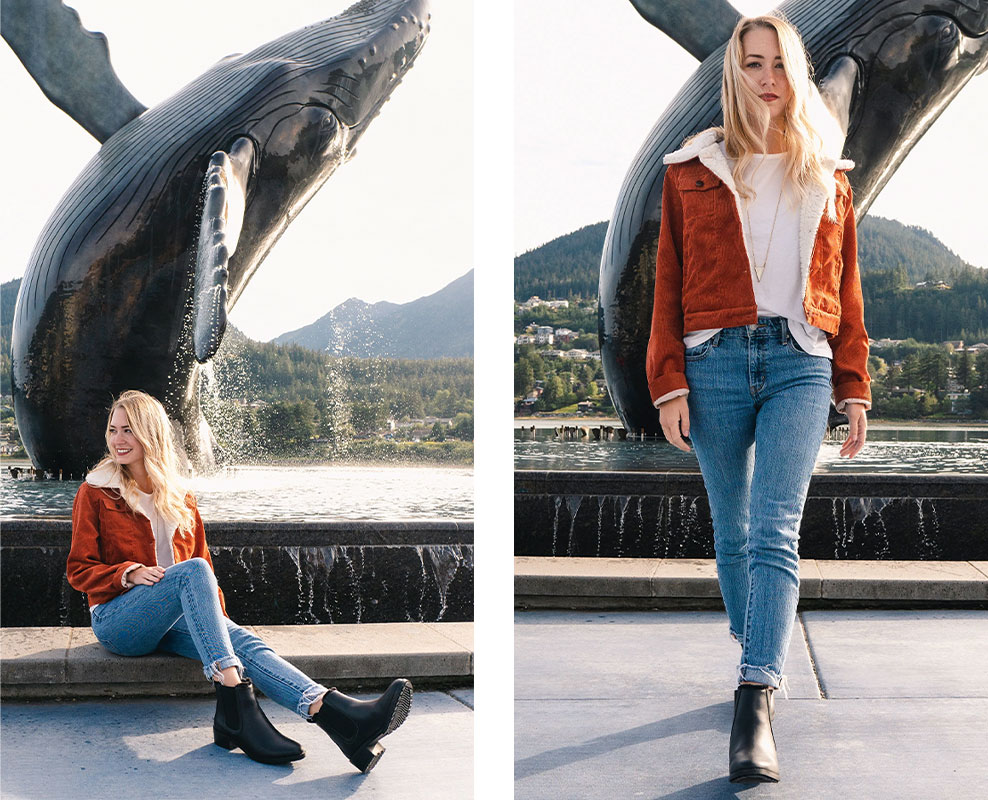 Featuring EMU Australia Ellin Boot in Black. Photo by Adam Ramer
2 Whale Watching
If that wasn't enough whale for you, go whale watching in Juneau.
I had contacted Terry White from Juneau Adventures, and it was probably the best thing that happened to us. We met at the dock at 8 am and got back at 11 am.
Terry was born and raised in Juneau and has over 30 years of experience. We boarded his comfortable boat that offered 360 degree views. Since it was just the 5 of us for the tour, we did not have to fight tourists for the views. He knew exactly where to take us, because within 10 minutes we were seeing spouts of water from the Humpback whales!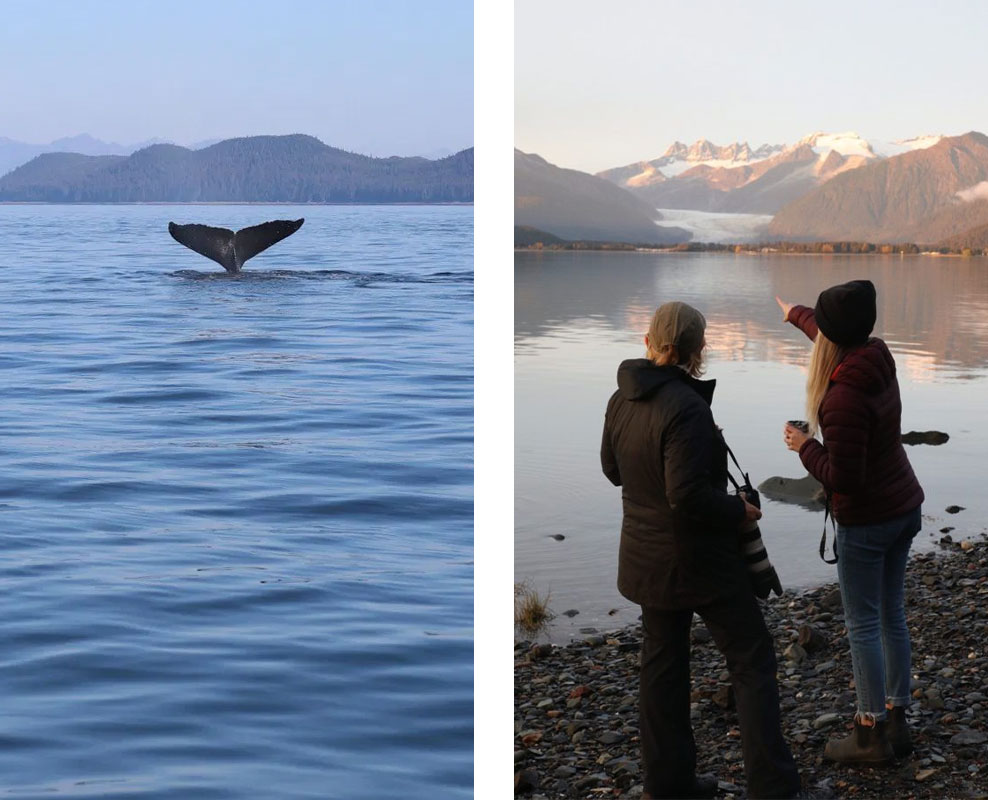 3 Waterproof strolls in downtown Juneau
Downtown Juneau has a lot to offer. Check out local art, beer, cuisine and music! Juneau Artists Gallery features great local art and jewelry and is worth a stop in. For local beer, I highly recommend Barnaby Brewing and Devils Club Brewing! If you're around for the night life, you should drop in to Alaskan Hotel Bar, as they have live music most nights.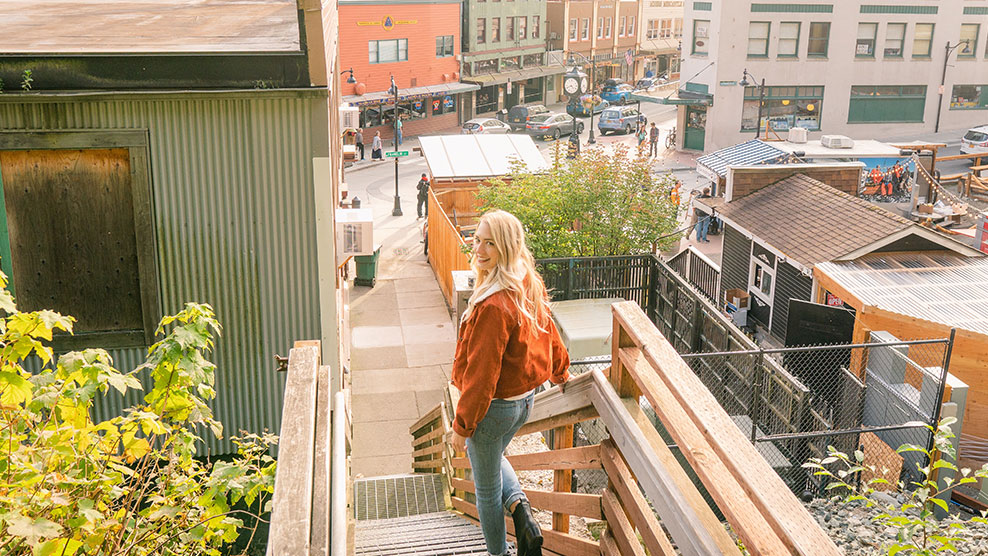 EMU Australia Ellin Boots in Black. Photo by Adam Ramer
4 Get Outside
Juneau has many trails to choose from to get an easy or challenging hike in! I always make a point to take visitors to Nugget Falls. It is one of my favorite nature walks to do in the rain, as you get views of the waterfall and the Mendenhall glacier! Some other favorites include: Thunder Mountain, Salmon Creek, and Blueberry Trail.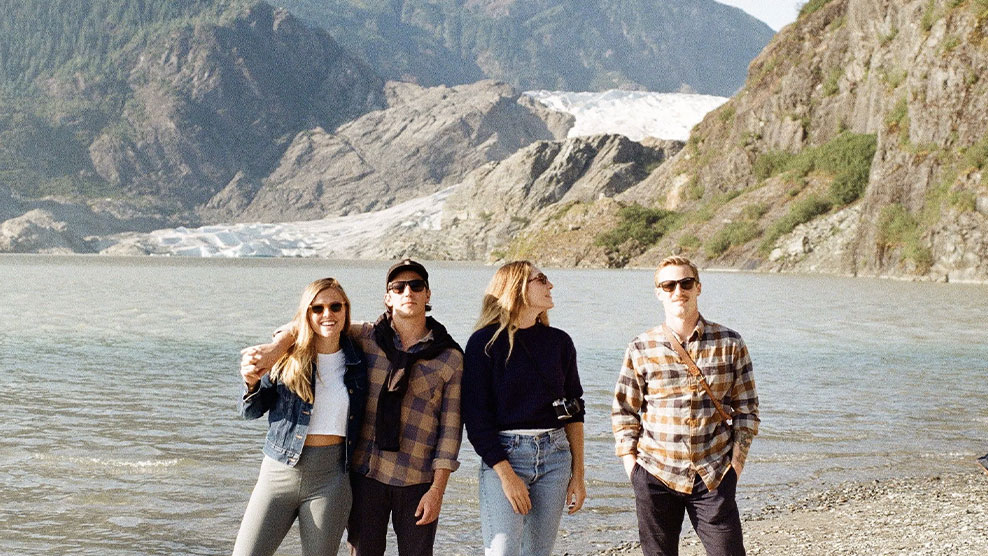 Views of the Glacier at Nugget Falls
5 Go to the Beach in Juneau
There are a few beach areas in Juneau that I really enjoy – rain or shine.
Savikko Beach (Sandy Beach) is a drive up spot that gives you views of the towering Juneau mountains as well as the mountains out the channel. If it's sunny, bring a blanket or have a bonfire! If it's raining, make sure you have waterproof boots and trek out to see the water run off the mountains.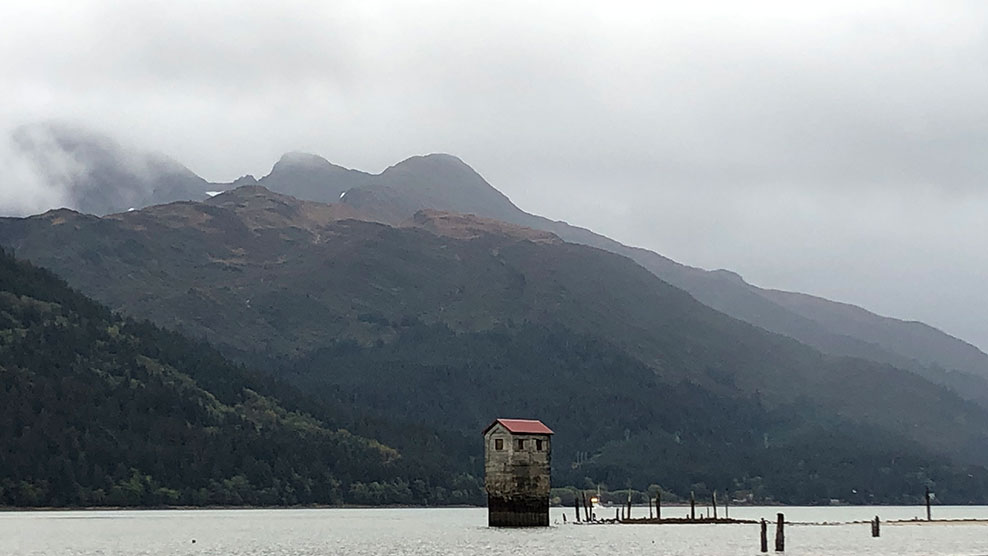 Douglas Boat Launch is another drive up spot. This spot has views of multiple glaciers and is one of my favorite spots for sunsets and bonfires.
Sunshine Cove is a bit of a drive near the end of the road, but it is so worth it! Camp out on the channel and hear whales, maybe catch the northern lights and enjoy views of the mountains across the water.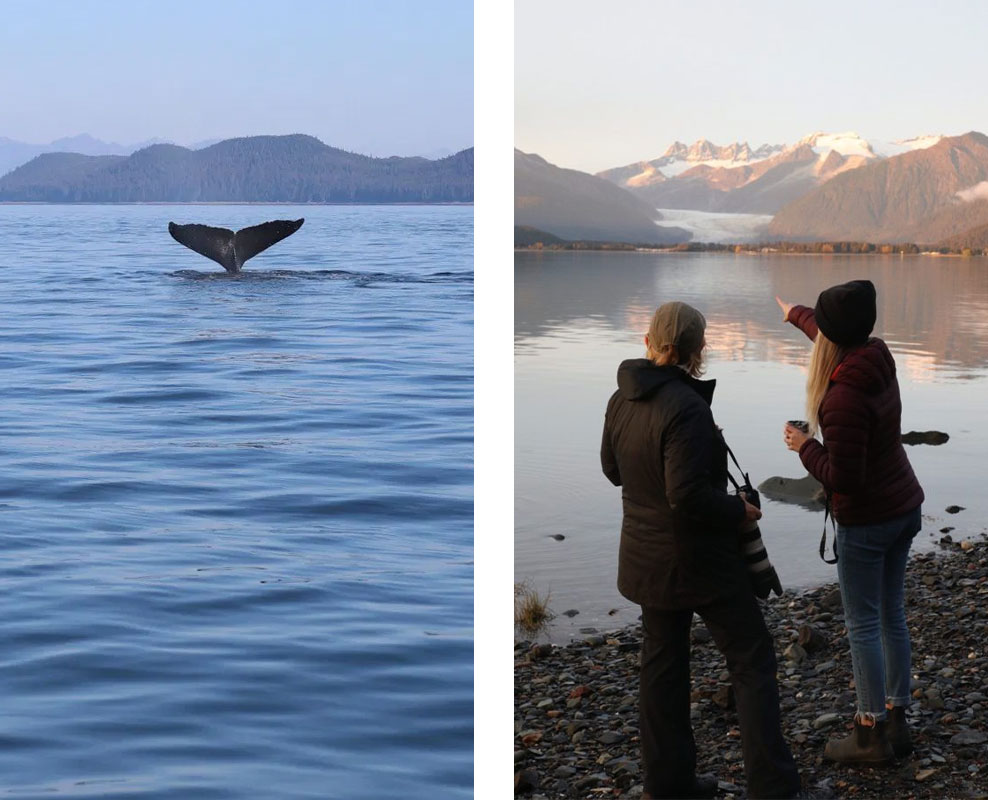 EMU Australia GIVEAWAY!!!
As mentioned above, Juneau gets a lot of rain and a lot of these activities require a sturdy, waterproof shoe. I like wearing my EMU Australian Ellin Boots as they are fleece lined to keep me warm, waterproof and look great! They have been comfortable for downtown and outdoor exploring!
You have a chance to win a years worth of EMU Australia products valued at $1,000 as well as weekly prize giveaways with their global campaign!!
Here's how to enter:
1. Enter via emuaustralia.com
2. Follow @emuaustralia on Instagram
3. Post a pic (optional) in your EMU Australia boots showing us the
adventure they have taken you on tagging EMU and EMUGLOBALADVENTURES
Have a trip coming up soon? Purchase the same boots now with a 25% discount code: EMUAdventure25