FREQUENTLY ASKED QUESTIONS - US
We realise a few questions pop up when you're shopping online. To make it just that bit easier, take a look at our FAQs below. These are the questions most commonly asked. If you can't find the answer you can simply complete the Contact Us and someone will get back to you directly.
FAQ's
CUSTOMER SERVICE
How can I contact customer service?
Please send us an email at onlinesupport_usa@emuaustralia.com or call toll free number 844 249 9076
How soon will I hear from EMU?
Our offices operate Monday to Friday, 9am to 5pm. If you contact us late on a Friday, it is likely you won't hear back from us until the following Monday. Hold tight through, we'll make sure we get back to you quickly.
SHIPPING
What is your shipping policy?
We have two easy options for shipping:
FREE UPS Ground Shipping (delivered within 3-5 business days)
$10 UPS Expedited (delivered within 1-2 business days)
We ship Monday to Friday, during normal business hours. We don't ship on weekends and public holidays.
We do not ship to PO boxes.
UPS Ground Transit Time Guide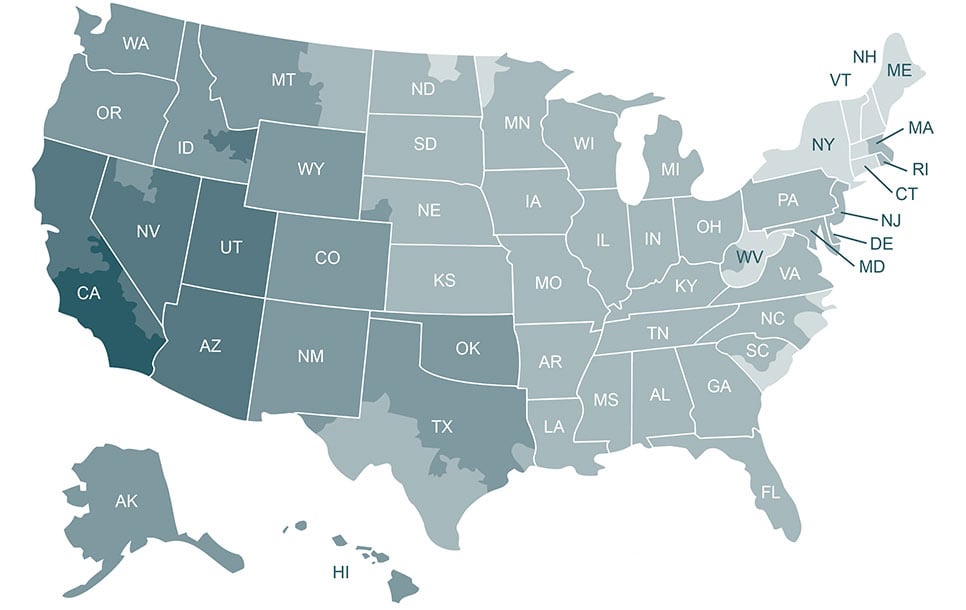 Transit Days
1 Day

2 Days

3 Days

4 Days

5 Days
Can I track my order once it's shipped?
All deliveries can be tracked online and this tracking information will be emailed directly to you soon after your goods have left our warehouse.
You'll see a tracking number in your shipment notification email, which you can enter on the UPS Page (depending on your chosen service) to provide you with tracking information until it reaches your door.
Do you ship to PO boxes?
No, we do not ship to post office (PO) boxes.
Does EMU ship worldwide?
Yes. EMU Australia can be found all over the world, but you will need to change your region on the website (top right corner) if you wish to ship outside of the USA.
We ship to the following countries:
| | | | |
| --- | --- | --- | --- |
| Australia | Finland | Lithuania | Slovakia |
| Austria | France | Luxembourg | Slovenia |
| Belgium | Germany | Malta | South Korea |
| Bulgaria | Greece | Netherlands | Spain |
| Canada | Hong Kong | New Zealand | Sweden |
| China | Ireland | Norway | Switzerland |
| Cyprus | Italy | Poland | The Czech Republic |
| Denmark | Japan | Portugal | UK |
| Estonia | Latvia | Romania | USA |
Where are my EMU products shipped from and who will ship them?
We use trusted shipping partners to get your EMU products to you. Here are the locations and delivery companies.
LOCATION

WAREHOUSE

COURIER

USA

Valencia, CA USA

UPS Ground (Free) (3-5 Days)

$10 UPS Expedited (1-2 days)

Canada

Surrey, BC Canada

UPS

Europe

Helmond, Netherlands

UPS

United Kingdom

Helmond, Netherlands

UPS

Australia

Geelong, Australia

AUSTRALIA POST

New Zealand

Geelong, Australia

AUSTRALIA POST INTL EXPRESS

Asia

Geelong, Australia

AUSTRALIA POST INTL EXPRESS
What happens if I'm not home when my order is delivered?
If you're in USA;
If there is nobody to accept the parcel, the UPS driver will leave the package at the recipient's door, or other secure location, if the driver believes it's reasonable to do so.
What happens if my items get lost in transit?
If you don't receive your item within a reasonable time frame, please contact the carrier using your tracking number details either online or by phone. If the carrier cannot locate your item, we will lodge an enquiry on your behalf. Please contact us if you have any queries regarding your delivery.
What happens if I receive an incorrect item?
Please contact our office immediately via email . Please ensure you include your order number and we'll arrange an exchange for the correct item.
DELIVERIES
My parcel hasn't arrived, what do I do?
If your parcel hasn't arrived within the estimated time period, we recommend you visit the carrier's website and check whether they've attempted to deliver to you.
If you order multiple items, these may be shipped in separate packages and may arrive at different times. If this occurs, please wait an extra day for the remaining item(s) to arrive.
If you have any problems with your shipment, please contact the courier and quote your tracking number. If you still need help, please contact EMU customer service or send your details to onlinesupport_usa@emuaustralia.com
ORDERING
What happens if I order something and it's out of stock?
Our website is programmed to remove out of stock items for the online store, but occasionally an item sells out within the day you may order. If an item on your order is sold out, we will still ship the available merchandise and send you an email to notify you of this shortage. We will offer to refund or replace with another style of equal or lesser value.
How do I know if my order was placed successfully?
After you've ordered your EMU products you'll be emailed a confirmation with your order number.
Make sure you entered the correct email address. If you are unsure, please email us at onlinesupport_usa@emuaustralia.com to confirm.
Can I make changes to an order?
While we pride ourselves on processing orders quickly and efficiently, unfortunately once your order has been confirmed we can no longer cancel or modify the order.
You can however return your purchase. Here's some more information about our returns policy.
PROMOTIONS/VOUCHERS
I have a promotional code, how do I apply it?
When you visit your shopping cart, you will have the opportunity to enter your coupon code. This will then adjust the price of your products before you proceed to make your payment.
SHOPPING ONLINE
Is it safe to order on emuaustralia.com?
Yes! All payments are processed using a Symantec SSL certificate. Your details are protected and can only be read on the secure server. Security checks are also completed for online transactions to ensure the authenticity of credit card payments and protect you from fraud.
FAQ's
How do I know I'm buying real EMU products?
If you're unsure about an online offer or if it seems too good to be true, it probably is, so if you want to be sure you're ordering real authentic EMU product, order direct from www.emuaustralia.com
What should I do if I've found some fake EMU product?
If you have evidence that an unauthorised retailer is selling fake EMU products, please email us at onlinesupport_usa@emuaustralia.com
Where are EMU boots manufactured?
EMU is an Australian owned business. We have a factory in Australia that makes our Platinum Collection of Sheepskin products, such as Platinum Stingers, Outbacks and Slippers.
Other fashion styles and kids products are made from 100% A Grade Australian Sheepskin and are made in China using the best quality natural materials.
What is the difference between a Platinum and normal Stinger?
Good question! All our Stingers are hand crafted from Australian sheepskin and are water resistant. The difference is that the Platinum Collection is an Australian made boot, made in our Geelong factory in Australia. So if you want Australian made, then look for the word Platinum, it's the one for you.
Will my EMU boots stretch?
Your EMU sheepskin boots will naturally stretch with wear. Being a natural product, the sheepskin will give a little, so when you make your purchase the boots need to fit snug, but still be comfortable. If you are unsure of your size, check our size guide.
Some of our fashion boots won't stretch as much as our sheepskin boots, so be sure to pick a size that you're ready to wear today. when purchasing from this range.
What is the warranty on EMU products?
We're happy to provide a manufacturer's warranty against defective materials or workmanship for 12 months from the date of purchase.
If you purchased your EMU product from a retail store or third party website, your first port of call will need to be the store or place where your product was purchased. They will process your claim.
If you purchased on our official EMU online store, please send us an email, with your order details and photos supporting your claim. We'll address it as soon as possible.
What is the best way to care for my EMU boots?
The less fuss the better, when it comes to sheepskin boots. If they get dirty, let the dirt dry and then brush it off. It's best not to wash your boots or put them in the washing machine. We also sell an EMU Australia care kit.