FREQUENTLY ASKED QUESTIONS
CUSTOMER SERVICE
SHIPPING
ORDERING
PRE-ORDER
PROMOTIONS/VOUCHERS
SHOPPING ONLINE
EMU AUSTRALIA PRODUCTS
CUSTOMER SERVICE
How can I contact customer service?
Please send an email to onlinesupport_usa@emuaustralia.com
What are your office hours?
Our office, based in California, operates Monday to Friday, 9am to 5pm.
SHIPPING
What is your shipping policy?
We have two easy options for shipping:
FREE UPS Ground Shipping (delivered within 2-5 business days)
$20 UPS 2-Day (delivered within 1-2 business days)
We ship Monday to Friday, during normal business hours, from California. We don't ship on weekends and public holidays.
We do not ship to PO boxes.
Ground Transit Time Guide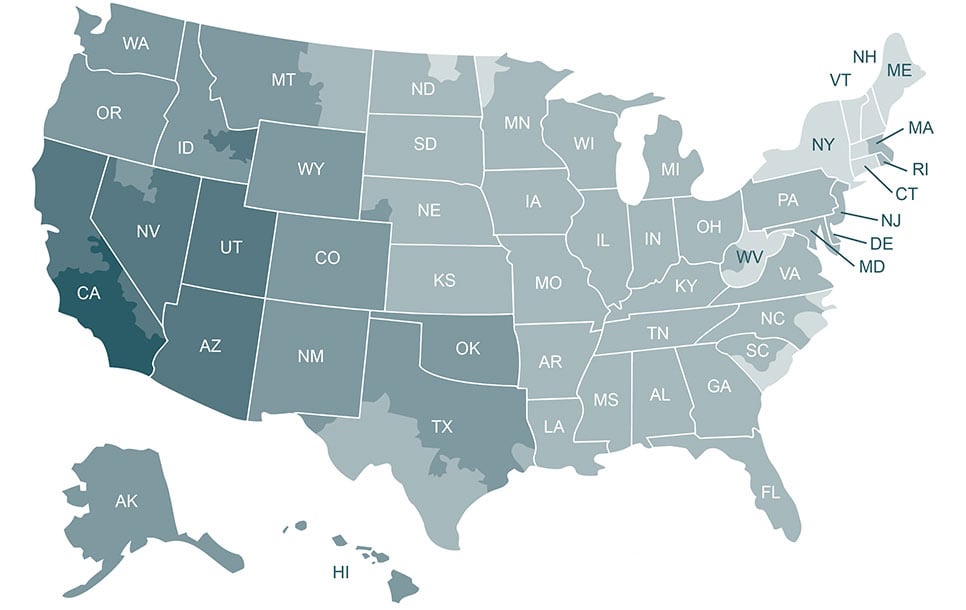 Transit Days
1 Day

2 Days

3 Days

4 Days

5 Days
Can I track my order once it's shipped?
All deliveries can be tracked online and this tracking information will be emailed directly to you soon after your goods have left our warehouse.
Do you ship to PO boxes?
No, we do not ship to post office (PO) boxes.
Where are my EMU products shipped from and who will ship them?
We use trusted shipping partners to get your EMU products to you. Here are the locations and delivery details.
Warehouse Location
Vernon CA USA
Shipping Partner
UPS Ground (Free) 2-5 Days
UPS 2-Day ($20) 1-2 Days
What happens if I'm not home when my order is delivered?
If there is nobody to accept the parcel, the UPS driver will leave the package at the recipient's door, or other secure location, if the driver believes it's reasonable to do so.
What happens if my item gets lost in transit?
If you don't receive your item within a reasonable time frame, please contact the carrier, with your tracking number details.
What happens if I receive an incorrect item?
Please contact our office immediately via email . Please ensure you include your order number and we'll arrange an exchange for the correct item.
ORDERING
How do I know if my order was placed successfully?
After you've ordered your EMU products you'll be emailed a confirmation with your order number.
Make sure you entered the correct email address.
Can I make changes to an order?
While we pride ourselves on processing orders quickly and efficiently, unfortunately once your order has been confirmed we can no longer cancel or modify the order.
You can however return your purchase. Here's some more information about our returns policy.
PRE-ORDER
Can I pre-order EMU Australia product?
We sometimes have certain styles on pre-order. This provides you with the opportunity to reserve early and receive your product as soon as they're available. If the style you're after is on pre-order it will show on the product page.
We don't have any styles on pre-order at the moment.
How do I place a pre-order?
If pre-order is available, simply choose the colour and size you're after, there will be a note below the quantity with the pre-order details, including the expected ship date.
Pre-order is only available on select styles/colours. If the colour and size you're after is not showing up, it means pre-order is not available for that colour or that we've already reached our pre-order capacity.
When will I be charged for my order?
It depends on the payment method you choose. If you pay using a credit card, you will be charged when the goods are shipped. If you pay using Paypal or Klarna, you will be charged in full when you place the order.
When will I receive my order?
The expected delivery date to our warehouse is detailed on the product page. Your order will be shipped soon after it arrives at our warehouse.
What are the pre-order terms?
- The availability date is an estimate only and may change.
- The shipping method used will be as you've selected in the original transaction.
- Our 30-day return policy applies from the date your pre-order is shipped.
- Payment will be captured either at the time you place your pre-order or on shipment, depending on the the type of payment you use.
- If your transaction is part of a promotion, the terms and conditions of that promotion apply.
- Only selected colours are available for pre-order.
- If you have ordered multiple products including a pre-order style and an in-stock style, your order will be part shipped initially with the style that is in stock with the remaining pre-order style shipped once it arrives at our warehouse.
PROMOTIONS/VOUCHERS
I have a promotional code, how do I apply it?
When you visit your shopping cart, you will have the opportunity to enter your coupon code. This will then adjust the price of your products before you proceed to make your payment. Coupon codes are not applied automatically.
What are the terms of your Spend & Save promotion?
- Spend $200 USD or more in one transaction to get 20% off your total purchase.
- Spend $300 USD or more in one transaction to get 30% off your total purchase.
- Cannot be used in conjunction with any other promotion including discount coupon codes.
- Available at emuaustralia.com only.
- Limited time only.
- Transaction does not qualify for free exchange.
SHOPPING ONLINE
Is it safe to order on emuaustralia.com?
Yes! All payments are processed using a Symantec SSL certificate. Your details are protected and can only be read on the secure server. Security checks are also completed for online transactions to ensure the authenticity of credit card payments and protect you from fraud.
EMU AUSTRALIA PRODUCT
Where are EMU boots manufactured?
EMU is an Australian owned business. We have a factory in Australia that makes our Platinum Collection of Sheepskin products, such as Platinum Stingers and Platinum slippers.
All of our products are designed in Australia, and either manufactured in Australia or offshore, using high-quality, sustainable materials.
Will my EMU boots stretch?
Your EMU sheepskin boots will naturally stretch with wear. Being a natural product, the sheepskin will give a little, so when you make your purchase the boots need to fit snug, but still be comfortable. If you are unsure of your size, check our size guide.
Some of our fashion boots won't stretch as much as our sheepskin boots, so be sure to pick a size that you're ready to wear today. when purchasing from this range.
What is the warranty on EMU products?
Warranty claims are to be made within 1 year of the order date.
If you believe the boots purchased from emuaustralia.com are faulty, please contact EMU customer service via email with the following important information:
1. photo of the entire boot
2. photo of the faulty area of the boot
3. your order number
4. a brief summary of the fault
What's covered by the warranty?
- Straps breaking where soles are not excessively worn
- Delaminating of sole layers
- Frayed or loose stitching on uppers
What's not covered by the warranty?
- Wear and tear
- Outsoles wearing out
- Deterioration from water abuse
- Stitching or hardware failure due to being caught, hooked or other abnormal wearing incidents
- Cuts, scratches, stains, burns etc
- Shrinkage from over exposure to extreme heat
- Animals chewing or abusing the product
- Excessive stretching
- Fit
EMU Australia does not offer a repair service on any products
Need further help?
Our customer service team are happy to help. You can email them at onlinesupport_usa@emuaustralia.com